It's a Friday finish! I finished one of my first items for my Q3 goal for the 2016 FAL. Here's my little yellow/green quilt made with orphan blocks. It is a charity quilt for my local quilt guild. I started out with five blocks, added some fabric, quilted and bound, and now it's a quilt for some happy baby!
I quilted it with my go-to template, Circle Lord Swirls. It looks great from the back too.
This quilt was my goal for July for the OMG Challenge.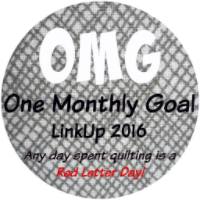 It is also my first finish for Q3 for the 2016 FAL (finish along). Goal 1 of 18 complete.
Also linking up with Michelle's Romantic Tangle, Let's Make Baby Quilts! You can check that out here.
There's also a new link that I'm excited about -- Myra's blog started Finished or not Friday! I think it's gonna be big. You can find it here.