Today I spent picking out of the blue scrap bin so that I can get caught up on the two wreath blocks needed for the Quilt Doodle Designs 2016 BOM. I've cut them and they are ready to sew.
I pulled fabrics for the top row (Santas) and put them in a nice little bundle in my blue scrap box so that I have even distribution of blues with my scraps. There is also a hat row that looks like it needs 2.5" strips (or so). I'll lay out my Santa blues when picking those. I love using my blue scraps. Can't wait to do another quilt with them. Blues and greens are my most popular and plentiful scraps.
Here's all my blocks so far.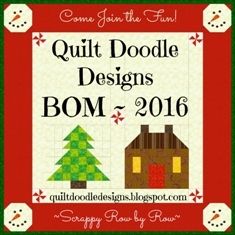 I'm also linking up with Cynthia at Quilting is More Fun than Housework for
Oh Scrap!