Finally. I finished the center block of the Super Mario Brothers QA at
Cora's Quilts.
The next block, Yoshi, has already been released. It was time to finish this one. My son loves it and wants it done NOW. He'll have to wait. This is only a block a month. Wish me luck. This is the only block that uses 2.5" squares. The rest use 1.5" squares. I haven't done anything that small yet in large quantities. (Note: The red ball hanging from the clothesline is where my son practices hitting a ball with his bat.)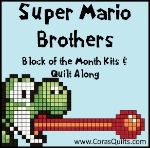 There's still time to join in the fun!