Really? May already? Where has the time gone? Even though my WIP list looks huge, I have had a ton of finishes this year! Let's keep them going! Here's what happened this week:
I finished the Buckeye Beauty baby quilt. This was a mystery quilt done with Made With Love by Mary blog.
New Project
1. Finding Nemo Scrappy Trip LOVE LOVE LOVE this pattern!!!
I made great progress.
I can't believe I already finished my May block for 2013 BOM of Quilt Doodle Designs! This is my favorite block so far in this BOM quilt.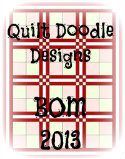 I volunteered to quilt a few quilts for our local quilt guild's charity drive. Here's the little pile of quilts I selected from the LQG stash:
This one is all Christmas prints. It should be easy to make a back for this one out of my stash.
This is a simple panel. I made a back for it already this week!
I should have some browns/creams for this one. Easy peasy. I'm not sure how I'll quilt this yet.
Although this one looks simple, it will be more challenging. The blocks are hand sewn and most of them are coming apart on the end. I reinforced all the seams at each end. I will be backing this with Three Blind Mice fabric from my stash. The back is already cut for it.
This one will take a little bit more planning for the back. But we'll get there.
I also found this old panel in my stash and cut a simple striped back for it.
I completed my MMMRR13 and mailed it to the next quilter. Whew... glad that is done!
Pieces still need to be cut
1. Herringbone OSU quilt
2. Digging up Bones (Owen's dinosaur quilt) -- Gave blocks to LQG Round Robin swap 4.23.13
Blocks still need to be made
1. NY Beauty
2. Orca Bay
3. We Can Do It Skill Builder Sampler
4. Red/White Flower Basket Quilt
5. Maroon Star Sampler Quilt
6. Color coordinated hexagon quilt
7. Gourmet Quilter Sampler
8. Bluepatch Mystery Quilt
9. Amanda Murphy Designs (ugly fabric quilt)
10. Drunkard's Path Variation baby quilt
Blocks are made but need to be sewn together (and some sashing)
1. Block Swap Adventure Sampler (2011 - 2012)
2. Butterfly Blocks (that I won)
3. Orange/Blue Fish Blocks (that I won)
4. Split Stars (block won from the Block Lotto)
5. African Violet baby quilt (Block Lotto inspired)
Quilt back need to be made (tops are done)
1. Grandma's WIP -- Cameo Rose (this one is a long-term project)
2. Grandma's WIP #2 (this is also a long-term project)
3. Tumbler Charm Quilt
4. Terry's Treasures Sew Along
6.
LQG Christmas charity quilt
7. LQG Jacob's Ladder charity quilt
8. LQG Ship charity quilt
Ready to longarm
1.
Dutchman's Puzzle
2. Heather Spence Mystery Quilt
3. Scrappy Christmas QA
4. Spring Mystery loaded 2/26/13 Eyelashes to rip out!
5. Rocking Horse panel
6. LQG 9-patch charity quilt
7. LQG Blue/Brown Baby charity quilt panel
Quilted, needs binding
1. Bear/Rainbow panel
Open ended projects
(Blue h
ighlighted
items on this list are complete for May.)
1. Block Lotto Blocks
2. Block Swap Adventure Block
3. Modern Mini Mystery Round Robin 2013
4. And Sew On BOM project 2013
5. 2013 BOM Quilt Doodle Designs
Each Wednesday I try to link up with Lee at
Freshly Pieced.
Sometimes the linky will accept my picture and let me link; sometimes it doesn't. But I try.