I'm so thrilled that I got the Yoshi block done for the Super Mario Brothers QA at
Cora's Quilts.
This block is all 1.5" squares sewn into 1" finished squares. There are 648 pieces to this block. Whew.
This and the flower block are about the same size. I hope that block is going to be done after school starts up in the fall. I don't know how I would find the time to do another big block like this one during the busy summer.
Shoot! I just realized that the blocks below the diagonal black blocks are supposed to be blue. Guess I've got just a little fixin' to do.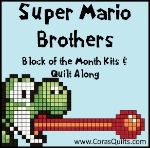 I am also participating in the Spring Sampler at Cora's Quilts. I need to make two blocks to get caught up to that one. Off to the cutting table... There's plenty of time to join in on the fun.