Happy New Year!!!
Here's what happened this week:
I completed Clue 5 (split triangle units) of Bonnie Hunter's Celtic Solstice.
I decided that I will be participating in the Quilt Doodle Designs 2014 Mystery BOM. Cindy's patterns are so cute! I loved the way 2013 turned out. Make sure you stop by my blog on 1/20 for the blog hop party so that I can show it off to you. In the meantime, check out this year's details for the QA that uses 2.5" scraps and strips!!! There will be some applique -- I know you can do it -- Ahem... I'm speaking to you, Julianne!)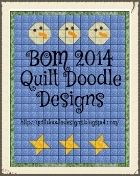 Although I planned to do a NYE Mystery QA (either Heather Spence or Yahoo Groups), I totally made up my mind which one I would do when Cindy released the January assignment for the BOM 2014 Quilt Doodle Designs QA. I just fell in love with those snowmen! I'm not sure how to take a good picture of this, but here's mine:
I finished this charity quilt for my LQG.
I love how the quilting pattern shows on the back. I have to show it off again...
This LQG charity quilt is still on my longarm. I'm practicing panto "Tickle" on it for the first time. I don't get much longarming done while my little guy is home for Christmas break. I'll be back at it starting January 6th.
I'm still working on those dang gone chevrons in CLUE 2 of Celtic Solstice... Less than 100 to go.
I made a back for my Surround Stars QA Quilt at
Happy Quilting.
It's one fabric for this quilt top:
I also made a pieced back for my Giant Starburst QA quilt. So I'll add that to the longarm pile!
Here's what the top looks like. I'll save the backs for a surprise for you.
I'm taking notes on the Oh Frannson cat QA. Looks like a fun use of scraps!
Melissa Cory of Happy Quilting is having a fun QA called Star Light Star Bright. I'm going to try to do a scrappy version. I just need to pick out some colors. Her QA's are always so much fun. I'm not sure what's different, but they are just super fun! Here's a peek from
Melissa's
page:
I have my eye on a few QA's...
2.
Mosaic Tiles
QA at Craft Buds (I got the digital book from the library...)
New Projects This Week
Pieces Still Need to be Cut & Sewn
1. Herringbone OSU quilt
2. Digging up Bones (Owen's dinosaur quilt) -- Received blocks this week 12.2.13
3. Downton Abbey Mystery QA
4. Rock Island Campfire Quilt
5. Picadilly Circle
6. ...And Sew On BOM at Quiet Play (one block to go)
7. MSBHQAL (Molli Sparkles Broken Herringbone Quilt Along)
8. Bonnie Hunter's 2013 Celtic Solstice Mystery (Clues 1, 3 & 4 done; working on 2).
Blocks Still Need to be Made
1. NY Beauty
2. Orca Bay
3. We Can Do It Skill Builder Sampler
4. Red/White Flower Basket Quilt (From 2011, I actually worked on this one this week!)
5. Maroon Star Sampler Quilt
6. Color coordinated hexagon quilt
7. Gourmet Quilter Sampler
8. Bluepatch Mystery Quilt
9. Amanda Murphy Designs (ugly fabric quilt)
10. Drunkard's Path Variation baby quilt
11. Finding Nemo Scrappy Trip quilt
Blocks are made but need to be sewn together (and/or some sashing)
1. Block Swap Adventure Sampler (2011-2012)
2. Butterfly Blocks (that I won) (Pulled out the blocks for this in December, 2013)
3. Orange/Blue Fish Blocks (that I won) (Pulled out the blocks for this in December, 2013)
4. Split Stars (blocks won from Block Lotto; October, 2012)
5. African Violet baby quilt (Block Lotto inspired) (Pulled out the blocks for this in December, 2013)
6. Tall Fly (blocks won from Block Lotto; January 2013)(Pulled out the blocks for this in December, 2013)
Quilts back needs to be made (tops are done)
1. Grandma's WIP -- Cameo Rose (this one is a long-term project)
2. Grandma's WIP #2 (This is also a long-term project)
Ready to longarm
1. Dutchman's Puzzle
2. 2nd Split Decision baby quilt
3. Spring Mystery 2013 (still need to rip out those early longarming eyelashes)
4. LQG Ship charity quilt
5. Quilt Doodle Designs 2013 BOM Quilt
6. LQG pastel squares charity quilt
7. LQG hand-pieced Irish Chain charity quilt (still on the frame)
8. LQG 2" scrappy squares
9. Happy Quilting Star Surround QA
10. Giant Starburst QA
Quilted, needs binding
Completed this week:
1. Just Squares 6" charity quilt for LQG.
This keeps my WIP at 38. That means the WIP goal for New Years Day 2015 is 19.
Linking up with Lee at
Freshly Pieced
for WIP Wednesday!