Allietare! is pieced and awaiting the inner border! I need to shop my stash for a gorgeous gold. I got all the rows together and realized I didn't have the last block. I had to make one, but it went together quickly. Luckily new scraps arrived to the scrap basket to make my decision easy. I didn't have to worry about if any of the colors were close to any of the others.
I this this pattern, designed by Bonnie Hunter of
Quiltville's Quips & Snips
, is one of my favorite quilts yet. I LOVE the colors! I'm not sure if I'll go with the black outer border that she did, but I know the perfect one is waiting to be discovered in my stash.
After I posted this I realized that the 2nd star on the left had one of the yellow four patches turned the wrong way. Don't worry, it has been fixed.
In the above photo I was so excited that this top made it this far that I forgot to sew on the bottom right corner piece. Whew! I found it in another scrap basket. Good thing, because all four corners are the same fabric and I didn't have much of that scrap to spare.
I just LOVE it!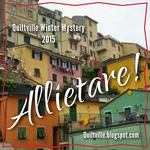 I'm linking up with Jo at
Jo's Country Junction
for the
UFO Challenge
. I'd like to get this quilt finished by the time Bonnie's new book comes out in September. Jo will be having a link-up party every Wednesday on her blog to show our progress.