This little fall quilt makes me happy every time I see it. I made it with the help of my Accuquilt GO! dies. It measures a nice little 32" square. Of course, my husband had to ask why I made a square tablecloth for a rectangle table. Silly...
Here's some of the detail of the little teardrops that I tried for the first time. I also LOVE the little green swirly vines coming off of the pumpkins.
I'm happy to link this quilt to TGIFF OctoberQuest at Quokkaquilts. Here's the link:
Or you can click the button on my sidebar!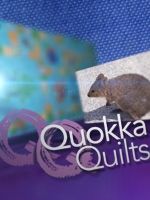 I'm also happy to link up with Richard and Tanya Quilts for the Link-A-Finish FRIDAY.
I'm also linking up with Crazy Mom Quilts: