Just in time for another Bonnie Hunter Mystery starting November 30, 2013, I announce the finish of my 2013 quilt -- Easy Street! I'm so excited for the finish of this quilt! It's huge!!! I'm linking this finish to
Jo's Country Junction
to show off my Bonnie Hunter completed project.
Of course it was quilted in my Circle Lord Swirls pattern. Here's the back. Look! You can see the sun peeking through the back. It snowed yesterday here in Ohio. Just enough to remind us that it was beautiful Ohio. You can also see that I used scrappy binding. Happy, happy, happy.
I really liked this year's mystery quilt because most of the steps were Accuquilt GO! friendly. That really helps me use my scraps.
Here's the link to the 2013 Bonnie Hunter Mystery at Quiltville --
Celtic Solstice.
Better start pulling my scraps:
Orange
Yellow
Green
Blue
And Neutrals, of course.
I'm happy to link this quilt to TGIFF OctoberQuest at Quokkaquilts. Here's the link:
Or you can click the button on my sidebar!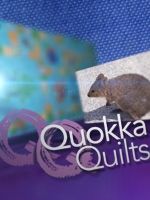 I'm also happy to link up with Richard and Tanya Quilts for the Link-A-Finish FRIDAY.
I'm also linking up with Crazy Mom Quilts: