Today was an exciting day. I finally finished the Jungle Babies Quilt that I started over a month ago. I think my niece will be happy. Here it is: (See bottom of this post for zucchini casserole recipe!)
This is the insteractive back. There are little things that a baby would like such as little loops for toys.
Here's the only part I'm not sure of, but at this point it's staying. It's a monkey tail.
Gotta love a link-a-do holder.
Here's an interesting giraffe tail.
The front is made from panels I purchased at JoAnn Fabrics. It was supposed to be a book. You can read the front of the quilt like a book.
All ready to go to Saturday's baby shower. Can't wait to see it with Camden on it!
Here's my stats:
New Projects: 0
Completed Projects -- 1 BIG one -- The Jungle Babies Quilt
This week I fell a little behind on the Summer Sampler Series (3 blocks), Rockin' Robin (2 rows) the Bluepatch Quilter Mystery blocks (2 blocks and some filler), and the We Can Do It Skill Builder Sampler(1 block). My son in in kindercamp tomorrow. I'll catch up a couple of blocks!
Currently in Progress: 9
We Can Do It Skill Builder Sampler
Bluepatch Quilter Mystery Quiltalong
Victorianna Fabric Party Quiltalong
30"x30" Quilt for the October quilt show
Charity Quilt for our local quilt guild (2 cut)
Kaleidoscope Quiltalong
Summer Series Quiltalong
Jungle Babies baby quilt for my niece due 7/30
Quilt Tops Awaiting backs and to be quilted: 3
(California King - Country Kitties)
(Jelly Roll Race - Lap quilt)
(Oh Susannah! Mystery Quiltalong - Queen quilt)
Projects on Hold: 1
Flower Basket Quilt
Stop by and see who else has what else going on with Lee at Freshly Pieced!
**********************************
Giveaway!
Check out Cara Quilts at 
http://www.caraquilts.com/2011/07/baby-go-giveaway.html
to win a Baby Go!
**********************************************
This quilt is entered in the summer fair at:
http://www.genxquilters.com/2011/07/summer-fair-quilt-and-recipe-show-july.html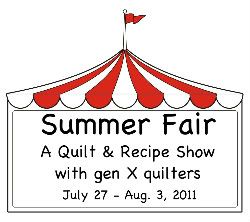 Zucchini Casserole
3 medium zucchini
1/4 cup sour cream
2 Tbsp. butter
1/2 cup Parmesan cheese
salt
paprika
2 egg yolks
1/2 small onion, diced
3 Tbsp. freeze dried chives
Slice zucchini. Cook for 6 - 8 minutes or until tender. Drain. Combine sour cream, butter, sheese, salt and paprika. Stir, add beaten egg yolks and onions. Add zucchini. Top with bread crumbs or cheese. Bake in 1 1/2 quart casserole dish for 30 minutes at 375.